Chicken and Broccoli Pasta Bake

Ingredients
250g wholewheat penne pasta
250g broccoli
2 leeks, sliced
4 cooked chicken breasts or leftover roast chicken about 350g in total
500ml semi-skimmed milk
30g cornflour
85g mature cheese
12 cherry tomatoes, halved
20g parmesan cheese, freshly grated
1 tsp dried oregano
3 tbsp dried wholemeal breadcrumbs
Method
Preheat the oven to 190C / Gas 5. Cook the pasta in a large pan according to packet instructions.

Trim the broccoli into small florets and slice the stalks. Add all the broccoli and the leeks to the pasta for the last 5 minutes.

When just tender, drain well, reserving about 250ml of the cooking water. Tip the pasta and vegetables into a large ovenproof dish. Skin the chicken and cut into small chunks and add to the dish.

Blend a little of the milk with the cornflour to a paste in a jug. Heat the remaining milk and reserved cooking water in the same pan until on the point of boiling. Pour about a cupful onto the cornflour paste and the stir well, then pour this into the simmering milky water and stir briskly with a wooden spoon until it thickens, remove from the heat and mix in the mature cheese. Season to taste.

Pour the sauce over the pasta, stirring gently with a fork. Nestle the tomato halves into the mixture, then sprinkle with the parmesan, oregano and breadcrumbs. Bake for 20 minutes until bubbling and crispy on top. Serve hot.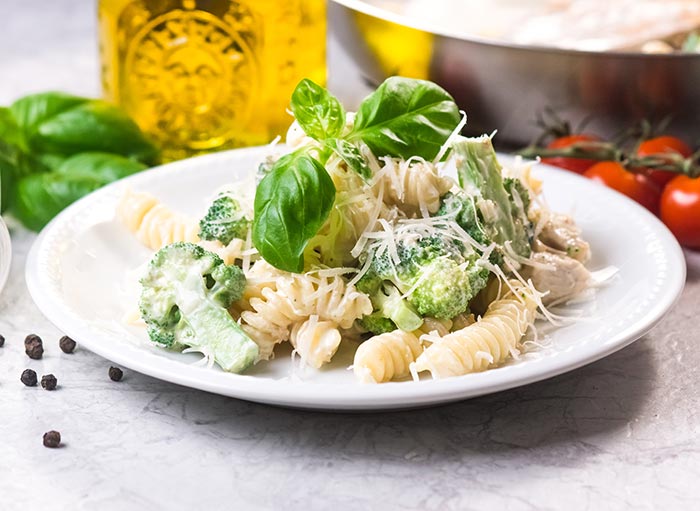 Easy
Cooking

West Dunbartonshire Mental Health Forum (WDMHF) offer easy cooking receipes for everyone. These recipes are easy to make and can help your mental health by eating the correct food.