West Dunbartonshire

Mental Health Forum

COVID-19 Update: Due to the outbreak of COVID-19, our services are limited at present. Please contact us by email, and well will get back in contact with you. Our emails are monitored a couple of times a week, as we are all volunteers, so please be patient with our replies.
West Dunbartonshire Mental Health Forum encourages providing services that will improve the well-being of the people of West Dunbartonshire living with mental health conditions and their carers. Gather service people's opinions on the current mental health services and future services development.
We achieve this by
Working in partnership with agencies, organisations, service users and people who have an interest in mental health issues.

Enabling the participation of forum members in the planning of services.

Tackle and address the stigma and isolation of individuals and their carers living with mental health conditions.

Provide training as necessary and ongoing support to members of the forum.
The forum is inclusive and welcomes membership from service users, carers and from agency and organisation staff members.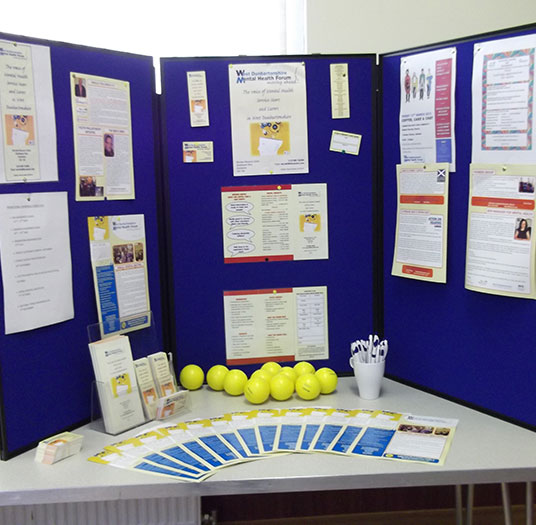 Who We
Are

West Dunbartonshire Mental Health Forum (WDMHF) represents service users and carers who work in partnership with services in the West Dunbartonshire local authority area. We are based at the Benview resource centre in Dumbarton and are currently funded by West Dunbartonshire Community Health and Care Partnership (WDCHCP).
If you would like to become a member of WDMHF, please contact 01389 742294 or email:wd.mhf@btconnect.com. You can also fill out our online form, and we will contact you over the next few days. Fill out the online form here
HOW CAN WE HELP YOU?
Please contact us if you have any questions about the services we offer.
Contact Us
The contact us page contains all the information you require to contact us by phone, post or email. You can also fill out a straightforward form with questions about our services.
Contact Us
Join Us
If you would like to help us and join the West Dunbartonshire Mental Health Forum, please fill out your details after you click the 'Join Us' button below. All information collected is confidential.
Join Us
Useful Phone Numbers
Listed are essential contact information around West Dunbartonshire and beyond. These phone numbers include other mental health organizations you might need to contact for help.
Useful Numbers
Easy
Cooking

West Dunbartonshire Mental Health Forum (WDMHF) offer easy cooking recipes for everyone. These recipes are easy to make and can help your mental health by eating the right food.