Easy Yule Log Recipe

Ingredients
6 eggs, plus 2 yolks
85g caster sugar
60g self raising flour
50g cocoa powder plus 2 tsp to dust
6 sheets of leaf gelatine
150ml skimmed milk
3-4 tbsp sweetener to taste
1 level tbsp cornflour
1 tsp coffee essence
2 tsp icing sugar to dust

Method
Pre heat the oven to 190C / Fan 170C / Gas 5

Put the six eggs and the sugar into a large mixing bowl and whisk until doubled in size.

Sieve the flour and cocoa powder into the eggs and fold in.

Line a 40cm x 30cm swiss roll tin with greaseproof paper, pour in the mixture and bake for around 10 minutes or until springy to the touch. Leave to cool slightly.

While the sponge is still warm, turn it out on to a sheet of greaseproof paper with a damp clean tea towel underneath and gently roll it up. Put the gelatine sheets in a bowl of cold water for 10-12 minutes or until soft. Put the milk into a saucepan over a medium heat and heat until hot but not boiling.

Put the extra egg yolks into a bowl with the sweetener, cornflour and 150ml of water. Stir well and tip this mixture into the hot milk then heat gently until thickened, stirring occasionally.

Squeeze the excess liquid out of the gelatine sheets and add the sheets to the milk along with the coffee essence. Stir well then removed from the heat and leave it to cool. Unroll the sponge ad spread the mixture over it evenly, roll up carefully and leave to set in the freezer for 3-4 hours or overnight if possible.

Transfer to the fridge about an hour or two before serving. Dust with the extra cocoa powder and icing sugar and slice and serve.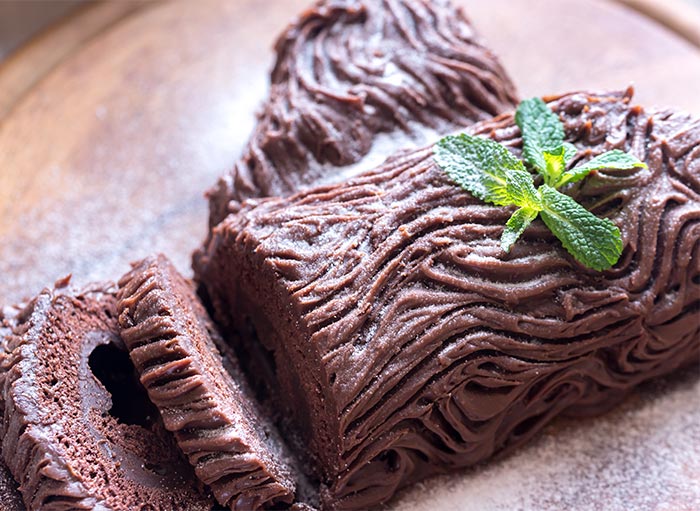 Easy
Cooking

West Dunbartonshire Mental Health Forum (WDMHF) offer easy cooking receipes for everyone. These recipes are easy to make and can help your mental health by eating the correct food.